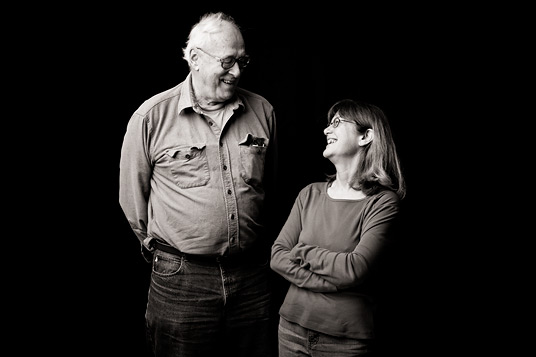 Robert Paine & Mary Power
Our respective glasses
Biographies
Robert Paine
Bob Paine was born in Cambridge MA, graduated from Harvard (AB 1954), did his dissertation research at the University of Michigan (PhD. 1961), a post-doc at Scripps Institution of Oceanography, and spent his entire academic career at the University of Washington. He was the youngest member ever of the Nuttall Ornithological Club, and has retained an interest in birds though most people consider him a marine ecologist who combines intense natural history with experimental manipulation of rocky intertidal shores. He is an elected member of the National Academy of Sciences. His commitment to natural history has been recognized by awards from the Ecological Society of America (Eminent Ecologist) and the American Society of Naturalists (Honorary Lifetime Membership).
Conversations:
Workshops:
Mary Power
Mary Power is a river ecologist and professor at University of California, Berkeley. Since 1988, she has directed the 8000-acre Angelo Coast Range Reserve. She was president of the Ecological Society of America and the American Society of Naturalists, and is a member of the American Academy of Arts and Sciences and the California Academy of Sciences. With students and collaborators, Mary studies food webs in tropical and temperate rivers, focusing on environmental controls of interactions of algae, invertebrates, fish, amphibians, and the bats, birds, lizards, and spiders that feed on riverine production. These interactions link rivers, watersheds, and nearshore ocean ecosystems in surprising ways. Better understanding of the natural history and environmental controls of these interactions should improve forecasts of ecosystem responses to climate, land use, or biotic change.
Conversations:
Workshops:
Transcript
Mary Power: I was, like you probably, as a kid very nearsighted. But mine wasn't discovered until I was eight. And I could see underwater with a mask; the refraction brought the fish and the kelp fronds and the whelks right in front of my face. So that was magic.
Bob Paine: If I could interject... Mary and I've traded glasses, and we can use our respective glasses to mosey around the environment. We're both very nearsighted.
Mary Power: Being underwater is also so beautiful because the animals and plants are not particularly bothered by large white pieces of meat floating around underwater. Sometimes they're mildly interested. So you just get to see them doing their business right in front of you in a most natural way. I never had good enough eyes to be a bird-watcher like Bob.
Bob Paine: I have terrible vision. I use my ears rather than my eyes. I don't see birds anymore, but I hear them and I know their calls.
Mary Power: We've had Bob up to our house and, sitting on the porch drinking something, he quadrupled my bird list by just listening.