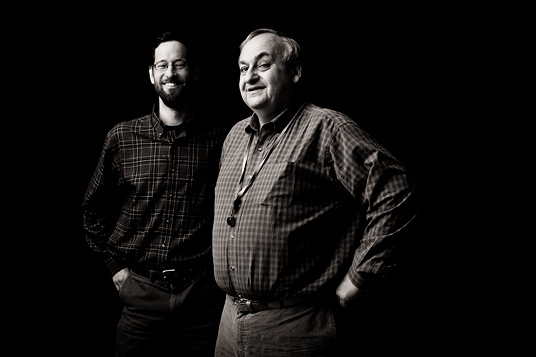 Tim Billo & Larry Davis
Summer camp
Biographies
Tim Billo
Tim Billo is a PhD student in the Department of Biology at the University of Washington. Natural history observation has been a mainstay in his life, from his childhood in rural and suburban parts of the eastern U.S., to his current dissertation research on a group of birds native to Central and South America. Throughout his adult life, starting as a natural history hike coordinator as a student at Williams College, natural history education has been a passion. He currently directs and instructs Pemi West, a month-long wilderness-based education program in Olympic National Park for students in their late teens, and a three week natural history based field course in southeastern Peru for University of Washington students.
Conversations:
Workshops:
Larry Davis
Larry Davis is a professor of earth and environmental sciences and a research scholar at the University of New Haven and the director of nature programs and teaching at Camp Pemigewassett in Wentworth, New HampshireI. He grew up in New England, climbing the mountains, swimming in the lakes and collecting minerals at the old mines. Currently he wears two hats, one as an academic where his research speciality is karst hydrology (the "plumbing" in cavernous areas), the other as a director at a boys summer camp in the mountains of New Hampshire, a position he has held for 42 years.
Conversations:
Workshops:
Transcript
Tim Billo: I have always been a Jack of all trades, and I think one of the hardest things for me going into academia is realizing that I might have to give up the wilderness education programs I do, or the natural history education with elementary schoolers at summer camps or through K-12 school systems. But I think one of the realizations that has come out of this conference is that it's okay for academics to be doing that. We acknowledge that that's where we came from, and we acknowledge that we need to give back to that if we want the study of natural history to continue and science to continue.
Larry Davis: I don't have any trouble justifying it to myself, or I think to anybody who's seen me operate in that context. It's so alien. You know, summer camp is Bill Murray and... What's that movie? You're the wrong one to ask. But anyway, a geologist is supposed to be out pounding rocks in the summer, and writing papers. That's what academics are supposed to be doing. So I have no trouble, but it didn't do my academic career any good, in the sense that I wasn't putting out to the level I probably was expected to be. Worse yet, I was seen as wasting my time, when I should have been doing something productive as defined by academia. But, I know that my camp experience has made me a much better scientist.