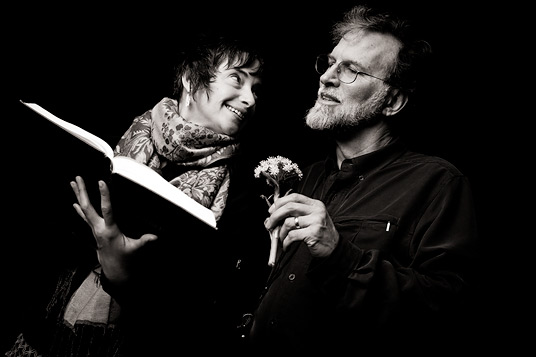 Richard Olmstead & Karen Reagan
An open door
Biographies
Richard Olmstead
Richard Olmstead is Professor of Biology and Curator of the Herbarium, Burke Museum, at the University of Washington. His upbringing in rural upstate New York led him to an interest in natural history and the out-of-doors from several perspectives. From an early curiosity of wanting to know what all the trees were in the forests of his childhood, he developed a scientific curiosity that led to questions about the origin of the diversity of life on earth in an evolutionary sense, ultimately circling back to the evolutionary trees that comprise the forest we call biodiversity. Another stimulus from an early age was the challenge of testing oneself in the natural world, which has led to a lifetime of mountain wandering, including an 8-year hiatus while he pursued his dreams as a climbing guide. Today, his work involves research in plant phylogeny, as a tool to understand patterns of biodiversity today, documenting baseline data on biodiversity for our ecoregion in the Pacific Northwest, and educating students and the public about plant biodiversity.
Conversations:
Workshops:
Karen Reagan
Karen is a graduate student in biology at the University of Washington focusing on terrestrial ecology. Her love of nature and being out doors has led to her work with natural history and interest in strengthening ways of connecting people with the natural world around them. She feels there is a certain joy in sharing the gift of natural history with others; a spark of wonder when the ornate stigma of a flower draws someone in for the first time; a secret door that opens when neighbors stop to watch the ants battle as they swarm the sidewalk. She wants to continue to be a conduit for these connections to the natural world, drawing the attention of her community to the vast beauty of the living things that surround us.
Conversations:
Workshops:
Transcript
Richard Olmstead: He was always there, always had an open door. He was the sort of professor who wore a coat and tie to work everyday, but on the back of his office door hung his field clothes. Whenever undergrads came into his office at the end of the day, or between classes with some time to kill, he we was always willing to change out of that tie and coat and drag us down to his Volkswagen bus that was parked behind the building and go out to the local woodlot to see what was flowering, or go to the local marsh to see if the cranberries were ripe yet. That influence of a teacher who had an individual interest in students and in natural history, influenced me to want to be the same.
Karen Reagan: Well, I can tell you that his modeling for you really paid off. My first interaction with you outside of the classroom was finding a horsetail. I had no idea what it was, but there was a lot of it so I didn't feel bad about plucking it out of the ground. I came into your office and I said, "What is this?"
And you talked at length about equisetum and its role in history and how it was one of the most primitive plants that we had in our current environment. You talked about where to find it, and you then encouraged me to come back any time I had a question. You probably don't remember me hauling in mock orange and golden chain and all sorts of non-native plants that were also in the environment, to ask you, "What are these? Where did they come from? What's their history?"
Your door was always open.