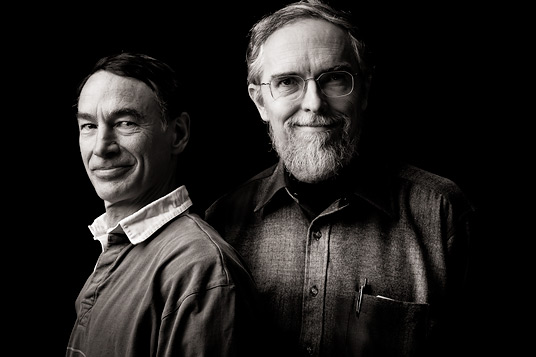 Clifford Duke & Peter Dunwiddie
Magic
Biographies
Clifford Duke
Since 2003, Cliff Duke has directed the Ecological Society of America's (ESA) Office of Science Programs, which promotes the continued development of ecological science and its integration into decision-making and education. Cliff is also a member of the National Research Council's Committee on Sustainable Development of Algal Biofuels and serves on the Sustainable Rangelands Roundtable Steering Committee. Before joining the ESA staff, Cliff worked for fourteen years as a consultant in environmental impact analysis and project management on National Environmental Policy Act and Comprehensive Environmental Response, Compensation and Liability Act projects for defense, transportation, and waste management facilities. Cliff has a PhD in Botany and an MA in Public Policy Science, both from Duke University, and did postdoctoral research at Northeastern University, Wellesley College, and Harvard University. His research interests have spanned environmental toxicology, marine ecology, biochemistry, and plant tissue culture. His primary focus these days is the application of ecological science to environmental decision making.
Conversations:
Workshops:
Peter Dunwiddie
Peter Dunwiddie is an ecological consultant and affiliate professor in Biology and Forestry at the University of Washington. He has held a number of positions as an ecologist for several conservation organizations, including the Nature Conservancy and the Massachusetts Audubon Society, specializing in conservation biology, management of natural areas, and fire ecology. His research has spanned a variety of fields, including ecological restoration, fire ecology, invasive species management, dendrochronology, and the conservation of rare species. In addition to the usual Cascadian pursuits of hiking, kayaking, and ski mountaineering, he has been known to fly airplanes, play viola in symphony orchestras, feed crickets to a 14-year old pet toad, and feels privileged to be frequently asked to set fire to many of his favorite natural areas.
Conversations:
Workshops:
Transcript
Cliff Duke: When I was in graduate school in North Carolina, I was out in the field one day, and I guess it must have been in monarch migrating season. I saw off in some distance a bush that had bright colors and this was not flowering season. Out of curiosity I walked over to this and looked down – it was a bush maybe a yard in diameter – and it was utterly covered with monarch butterflies. As I stood there, as if someone had flipped a switch, they all took to the air. It was as if one had watched a flowering tree suddenly have all the flowers disappear into flight. It was just magical. It was stunning. The whole experience took maybe two minutes. It's a moment I've not forgotten.
Peter Dunwiddie: That touches on an aspect that I'm not sure I can coherently converse on. But to me, an essential part of natural history has been magic. It's hard to articulate, and it's certainly difficult to write about for me as a scientist, but it's always been an essential part of it. Whether you call it magic or mystery or "the unknown," to me I've always found a great deal of satisfaction and delight in just knowing how much I don't know. It's both inspiring and humbling, and I think both of those are useful emotions to frequently feel. To me, one of the real values of natural history is being able to instill those emotions in me at a fairly frequent basis. There are a lot of times I'm wandering around out there just scratching my head in awe of something that I don't understand.