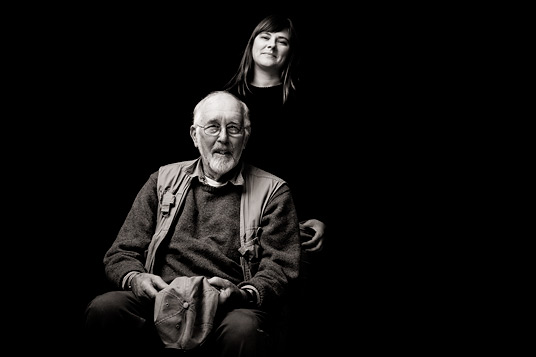 Steve Herman & Noelle Machinicki
Off the pavement
Biographies
Steve Herman
Steve Herman is a Northern California boy with degrees from the University of California. He is now an Emeritus Member of the Faculty at The Evergreen State College in Olympia, Washington. His forty year career has been fashioned mainly of taking students to wild and semi-wild places in the Americas and requiring them to work very hard while learning natural history and whatever anthropology inhabits the landscape. His research has included pesticide-wildlife relationships, shorebird migration, peregrine falcons and other endangered birds, and the savaging of most of the American West by public lands grazing.
Conversations:
Workshops:
Noelle Machinicki
Noelle is a graduate student at the University of Washington where she currently is studying the evolutionary ecology of interactions between fungal pathogens and wild chili peppers. Originally from the suburbs of Chicago, she was drawn out west by the rainforests and attended The Evergreen State College where she spent a lot of class time outdoors learning about marine creatures, mushrooms, and forest ecology. Noelle credits Evergreen and its unique teaching approach for igniting her interests as a naturalist, a biologist, and as a science educator. For several years, she has been an adjunct faculty member at Bastyr University where she teaches an interdisciplinary course on mushrooms and their uses. This year, she is a teaching fellow in an NSF-funded GK-12 program, acting as a "guest scientist" in high school biology classes.
Conversations:
Workshops:
Transcript
Steve Herman: All this fieldwork that we talk about in natural history is really dwindling at this point. I'm told that Washington State University does not send students out on long field trips anymore, and there's always an effort at Evergreen now to reduce the availability of vehicles to do that. Last year the motor pool decided that they didn't want any of their vehicles to go off the pavement. I fortunately got a dean to reverse that, at least temporarily, but they often have their ways. Mycology could have been taught from a collection, because you probably collected mushrooms as well, and there is a reference collection at Evergreen. That's how much of this business of natural history, by their definition, is approached in many institutions.
Noelle Machinicki: I've taught for many years now, as a teaching assistant, the mycology course at the University of Washington. It's all taught from museum collections or our dried specimen collection and also some cultures. So it's all microscopic.
We did actually take the kids out on a field trip, but the course has gotten so big now – there's 90 students in it and one professor – it's too difficult logistically to even get them out for a day trip. And everybody has got psychology class to run off to, or chemistry class to run off to. For the sort of system in which we're operating, it's not bad. But I do feel bad for the students.
They ask me, "What were your labs like?"
And I say, "Well our labs were outside."
When we brought our specimens back into the lab it was kind of open. We had class hours, but people were so motivated that they'd come hang out in the lab after hours. We just had the labs unlocked and we had music on, and people would file in and out. It became a learning community that I feel that students aren't really experiencing in the same way.