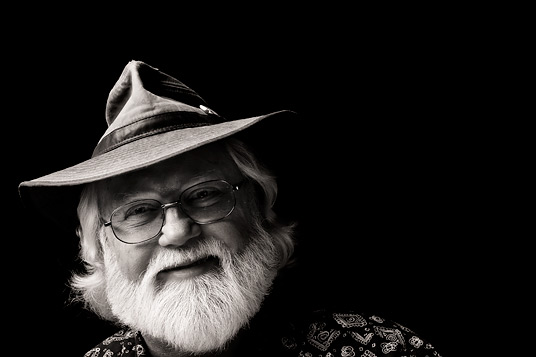 Robert Michael Pyle
Reading, writing, arithmetic and nature (with Saul Weisberg)
Biography
Robert Michael Pyle
Robert Michael Pyle is a writer of essay, fiction, and poetry, and an independent biologist, who resides along a tributary of the Lower Columbia River in Southwest Washington. A Yale-trained ecologist, he has worked for the government of Papua New Guinea, The Nature Conservancy, and WWF/IUCN, and has served as guest professor of environmental writing at Utah State University, the University of Montana, and other colleges. Pyle's fifteen books include Wintergreen (winner of the John Burroughs Medal), The Thunder Tree, Where Bigfoot Walks (subject of a Guggenheim Fellowship), and Sky Time in Gray's River (National Outdoor Book Award in natural history literature). His latest book, Mariposa Road, is a narrative of a year's encounter with the natural history of North America. He is an advisor to the Children and Nature Network and was a longtime columnist in Orion magazine.
Conversations:
Workshops:
Transcript
Robert Michael Pyle: When you were in elementary school, was there anything in your day-to-day instruction that smacked of natural history?
Saul Weisberg: No. Elementary school, middle school and pretty much all of high school, we didn't go outside.
Robert Michael Pyle: So that's a long way from Anna Botsford Comstock and the American nature study movement when it was considered a desirable part of your ordinary basic education. There were the three Rs – and then there was N – reading, writing, arithmetic and nature. And that was ordinary. That was expected to be part of the regular daily exposure in school. And school kids went outside. My grandmother led them out on botany walks in 1960.
That didn't make everybody a great naturalist, of course. And the teachers weren't all great naturalists. But things happened socially that caused that to change, and the national priorities changed towards hard science. A lot of that was military driven and economically driven.
But you know what gives me hope is that I see the impulse staying alive in the kids. The kids who skip quarters on the water in the fountains in the malls because they don't have a pond with stones, but they still want to skip stones, you know. The kids who will kick over a can in an alley to see what's under it because they don't have a stone in a meadow. Those kinds of impulses die hard. If we can keep them from passing out of the repertory of kids, maybe there's a chance.