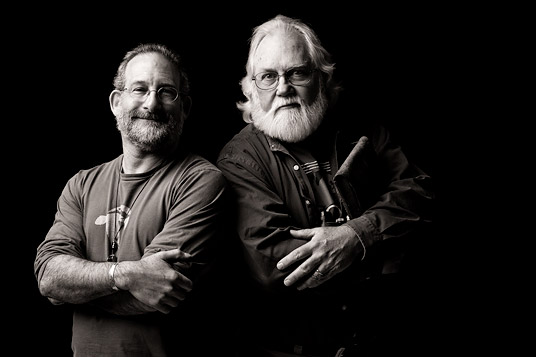 Robert Michael Pyle & Saul Weisberg
Keep an eye out for those kids
Biographies
Robert Michael Pyle
Robert Michael Pyle is a writer of essay, fiction, and poetry, and an independent biologist, who resides along a tributary of the Lower Columbia River in Southwest Washington. A Yale-trained ecologist, he has worked for the government of Papua New Guinea, The Nature Conservancy, and WWF/IUCN, and has served as guest professor of environmental writing at Utah State University, the University of Montana, and other colleges. Pyle's fifteen books include Wintergreen (winner of the John Burroughs Medal), The Thunder Tree, Where Bigfoot Walks (subject of a Guggenheim Fellowship), and Sky Time in Gray's River (National Outdoor Book Award in natural history literature). His latest book, Mariposa Road, is a narrative of a year's encounter with the natural history of North America. He is an advisor to the Children and Nature Network and was a longtime columnist in Orion magazine.
Conversations:
Workshops:
Saul Weisberg
Saul Weisberg is the executive director and co-founder of North Cascades Institute, a nonprofit organization working in partnership with the National Park Service, the US Forest Service and the City of Seattle "to conserve and restore Northwest environments through education." A national leader in field-based environmental education, Saul worked throughout the Pacific Northwest as a wilderness ranger, biologist, fisherman and fire lookout before starting the Institute with a group of friends in 1986. He is an adjunct faculty member at Huxley College of the Environment at Western Washington University and has served on the board of directors of the Natural History Network, the Environmental Education Association of Washington, the Association of Nature Center Administrators, the Alliance for Wilderness Education and Stewardship, Northwest Ecosystem Alliance, and Experience International. Saul lives in Bellingham, WA with his wife and daughters. His passions include canoeing, bugs and walking in the mountains in the rain.
Conversations:
Workshops:
Transcript
Saul Weisberg: I was part of a group a couple years ago that was talking about how do we get children out into nature. One of things that we proposed was how can we get children and nature to be as prevalent as youth soccer. How do we take a goal that says, "Okay, we want every kid doing this, every weekend for eight months of the year." And we had a lot of ideas by trying to articulate what was it about youth soccer that was so powerful. A lot of it had to do with competition, rules, uniforms, tremendous parental involvement. But how do you translate that kind of energy to natural history, which, if not a solitary pursuit, is usually not done best in large noisy groups?
Robert Michael Pyle: I think you're right about that. Maybe we're not going to bring all kids into natural history the way they're into soccer. But maybe instead, we can keep our eyeballs out for those particular kids who have an inclination. It might be poorly developed, but you can see 'em. They're the ones that lag behind the group. They're the ones that do pick up things and look at things, listen to a shell and so on. Keep an eye out for those kids, and make sure to nurture and culture them in such a way that they can go deeper. Because they're going to effect others along the way, and bring others along. Maybe that's a better expenditure of our energy than the mass.