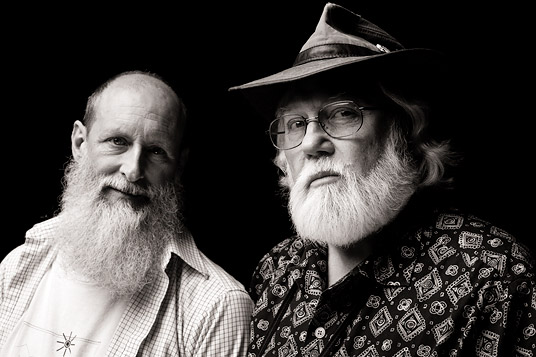 Robert Michael Pyle & Tom Wessels
The great shame
Biographies
Robert Michael Pyle
Robert Michael Pyle is a writer of essay, fiction, and poetry, and an independent biologist, who resides along a tributary of the Lower Columbia River in Southwest Washington. A Yale-trained ecologist, he has worked for the government of Papua New Guinea, The Nature Conservancy, and WWF/IUCN, and has served as guest professor of environmental writing at Utah State University, the University of Montana, and other colleges. Pyle's fifteen books include Wintergreen (winner of the John Burroughs Medal), The Thunder Tree, Where Bigfoot Walks (subject of a Guggenheim Fellowship), and Sky Time in Gray's River (National Outdoor Book Award in natural history literature). His latest book, Mariposa Road, is a narrative of a year's encounter with the natural history of North America. He is an advisor to the Children and Nature Network and was a longtime columnist in Orion magazine.
Conversations:
Workshops:
Tom Wessels
Tom Wessels is an ecologist and founding director of the master's degree program in Conservation Biology at Antioch University New England. He is the current chair of The Center for Whole Communities that fosters inclusive communities that are strongly rooted in place and where all people –regardless of income, race, or background – have access to and a healthy relationship with land. He is former chair of the Robert and Patricia Switzer Foundation that fosters environmental leadership through graduate fellowships and organizational grants. He serves as an ecological consultant to the Rain Forest Alliance's SmartWood Green Certification Program. Tom has conducted landscape level workshops throughout the United States for over 30 years. His books include: Reading the Forested Landscape, The Granite Landscape, Untamed Vermont, The Myth of Progress: Toward a Sustainable Future, and Forest Forensics: A Field Guide to Reading the Forested Landscape.
Conversations:
Workshops:
Transcript
Tom Wessels: I think that there are people who can do their natural history practices in a variety of ways. But certainly the wandering is what works for me.
Robert Michael Pyle: Think about the jaguar or ocelot or jaguarundi on the other side of this border wall over here. And that's what they do. They quarter their territory. They wander. They're going to hit that wall, you know. That's the great shame. I mean shame in the technical sense of the term, that is the shame that we should do such a thing to inhibit the wandering of wild animals. But you see, this is the same thing we do with kids.