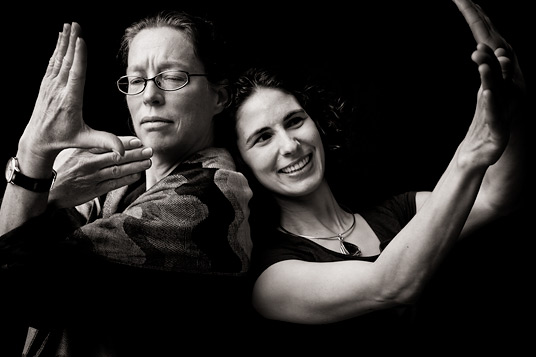 Maria Coryell-Martin & Julia Parrish
Art as a tool, not a talent
Biographies
Maria Coryell-Martin
As an expeditionary artist, Maria Coryell-Martin travels to remote regions and paints environments vulnerable to climate change, inspired by the tradition of traveling artists such as Emily Carr in British Columbia, Thomas Moran in the American West, and Edward Wilson in Antarctica. Since 2005, she has focused on polar and glaciated regions, including Greenland, Antarctica, British Columbia, and the North Cascades mountains in Washington State. In the field, she often joins scientific research teams to enrich her understanding of the environment and sketch with ink and watercolor media. Once home in her studio, she develops her fieldwork into larger paintings for exhibit as well as materials for environmental outreach and education. Maria's interest in field art and science was first piqued by two summers with the Juneau Icefield Research Program ('99, '03) and through her education at Carleton College (class of '04). After graduation, she was awarded a Thomas J. Watson Fellowship for one year of travel around the world for her project, "Ties to the Land, Exploring Remote Regions through Art." She lives in Seattle with her husband.
Conversations:
Workshops:
Julia Parrish
Julia Parrish is a Professor of Aquatic and Fishery Sciences at the University of Washington, where she also serves as the Director of the Program on the Environment, an undergraduate environmental studies unit, and as the Executive Director of the Coastal Observation and Seabird Survey Team (COASST), a citizen science project linking hundreds of coastal residents to the health of the nearshore marine environment. Julia's areas of expertise include seabird biology, animal aggregation, and marine conservation issues surrounding fisheries. Her current research is focused on the common murre, a ubiquitous fish-eating seabird of the coastal marine environment. Julia has worked to decipher the forces affecting murre population health, including changes in forage fish availability, the effect of increasing predator populations, transitions in climate, habitat availability, fishery bycatch, and the impact of oil spills. Her research on seabirds led her to start COASST, where coastal residents are trained to collect rigorous scientific data on the identity and condition of beachcast carcasses, by surveying local beaches in a standardized manner on a monthly basis.
Conversations:
Workshops:
Transcript
Julia Parrish: I sit on a little cliff, not much wider than two chairs. And the cliff goes down about 150 feet, maybe 120 feet, on both sides, so you're out in the middle, but you have a 200 degree view out to the Pacific and to these places where birds nest. And I watch the birds. I have spent easily over 1000 hours just sitting there, watching things fly by and thinking about things. And I spend a lot of time drawing; sometimes because I want to map particular birds and whether they have an egg or a chick, and sometimes because not much is going on and I like to draw. It's really interesting to me because it's made think a lot about the role of art in science, and particularly in natural history. It's an alternate way of knowing, but a really important way of knowing. So now I encourage my students to take gesture drawing classes.
Maria Coryell-Martin: I think there's the shift of the right brain left brain that's really important to cultivate. I try to encourage art as a tool, and not as a talent, and making progress, not perfection. If I can help offer people tools – of gesture drawing, contour drawing, thumbnail sketches, squinting their eyes to see the big shapes, exploring form (the shapes of things) versus content or naming, leaving behind their assumptions about what something should look like to actually look deeply at a subject – it will help them see better and understand what they're observing better.