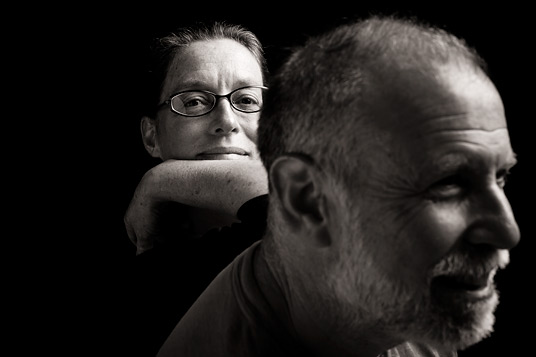 Julia Parrish & Mitch Thomashow
Time travel
Biographies
Julia Parrish
Julia Parrish is a Professor of Aquatic and Fishery Sciences at the University of Washington, where she also serves as the Director of the Program on the Environment, an undergraduate environmental studies unit, and as the Executive Director of the Coastal Observation and Seabird Survey Team (COASST), a citizen science project linking hundreds of coastal residents to the health of the nearshore marine environment. Julia's areas of expertise include seabird biology, animal aggregation, and marine conservation issues surrounding fisheries. Her current research is focused on the common murre, a ubiquitous fish-eating seabird of the coastal marine environment. Julia has worked to decipher the forces affecting murre population health, including changes in forage fish availability, the effect of increasing predator populations, transitions in climate, habitat availability, fishery bycatch, and the impact of oil spills. Her research on seabirds led her to start COASST, where coastal residents are trained to collect rigorous scientific data on the identity and condition of beachcast carcasses, by surveying local beaches in a standardized manner on a monthly basis.
Conversations:
Workshops:
Mitch Thomashow
Mitch is currently the President of Unity College where he has served since 2006. For thirty years, he was the Chair of the Environmental Studies graduate programs at Antioch New England Graduate School. Much of his current work is oriented around sustainability and he serves as Co-Chair of the Steering Committee of the ACUPCC (American College and University Climate Commitment). He is the author of Bringing the Biosphere Home: Learning to Perceive Global Environmental Change (MIT Press, 2001) among other titles.
Conversations:
Workshops:
Transcript
Julia Parrish: When we think as biologists and ecologists about the world, we go seamlessly from the local scale, where we make an observation, to some larger geographic scale or longer timescales, and I think that's a skill that most of the world does not possess.
Mitch Thomashow: That's why time travel is interesting, because we can do time travel with paleo-ecological data, ice cores or that kind of thing. Geologists do time travel in their own kind of way. But conceptually, the reason why most Americans fail to understand climate change is because they can't make these leaps in space and time. So I feel that, as educators, this is what we must do.